♻ Now using 100% recycled silver.
All our workshops are tutored by Heather, an experienced goldsmith who has taught students of all abilities for more than 25 years.  No prior experience is required as Heather will be on hand to closely guide and supervise you through the jewellery making process enabling you to make your own piece of silver jewellery to take home.  
In addition to our workshops, bespoke classes can easily be arranged on request, for those wishing to learn a new technique, advance their skill or make a different item of jewellery such as earrings, chains or bangles. Heather is happy to discuss and arrange various workshop content. 
Classes are limited to four, so that the pace can be adjusted to each individual student ensuring that they gain the maximum from the experience.
Important Notes for all Students:
Dress:  Wear comfortable clothes, for health and safety no open toe shoes and long hair must be tied back. Aprons are supplied.
10.30am to 1.30pm – Weekdays, Saturday and Sunday.
Workshops can be booked by contacting Heather directly to arrange a reservation.
Gift Vouchers for classes can be purchased via our online shop. To redeem vouchers contact Heather to arrange your class quoting the voucher reference code.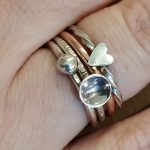 Come along for the morning and make your own set of silver stacking rings. You will be able to decide your own combination of textures and finishes for the rings, making them a truly personal set! During this half-day workshop, you will make 3 silver rings to take home with you.
All materials included + tea and snacks.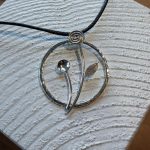 In this workshop, you will design and make a silver pendant. Using silver shapes and wires which you will texture, shape and solder together to produce your own original design which will then be hung on a cord necklace ready to wear.
All materials included + tea and snacks.
Silver Knot Ring

- £75 pp
In this workshop, you will first practice your knot ring techniques using copper before making a final knot ring in sterling silver. Both rings will be finished and polished for you to take home.
All materials included + tea and snacks.
Silver Spinning

Ring

- £75 pp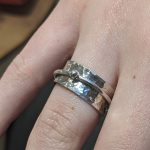 This beginner friendly spinning ring workshop will teach the forming, soldering and hammering of two silver rings that will fit together with the outer ring spinning freely around the broader inner ring.
All materials included + tea and snacks.
One To One Tution

- £45 per hour
Whether you want an intensive introduction to jewellry making or you wish to learn a specific technique, this bespoke tuition can be designed to give you a truly individualized learning experience that is tailored to your exact requirements.
Visited with my sister today and couldn't have asked for a nicer day! Very warm welcome and the loveliest studio space! So pleased with our rings and even purchased a few more bits! Couldn't recommend more highly!
Saturday morning well spent! Such a fab experience! Such a beautiful studio! Loved my rings that I made and I also bought another, could have bought so many things as it was all gorgeous! Will definitely be back.
I came here with my daughter and we both made stacking rings. From the moment Heather opened the door we were made to feel so welcome. The setting is just beautiful and quaint and I will definitely be back. Thank you Heather xx
Came over to visit my daughter and came here for a lovely evening workshop. It's not just for women ! The other half loved it too and was a great family evening. Fantastic teacher ! Enjoyed every second. We will be back xx
Fabulous relaxing way to spend 3 hours. Delighted with the rings we made on our first visit. Heather is a great teacher and she has some other beautiful crafts you can purchase from her little studio. We were complete novices but are now hooked
Fantastic class, really pleased with the stacking rings and greatly enjoyed Heathers tuition and company! Looking forward to another class soon!
Beautiful & idyllic set up with relaxed and informative tuition, soo good!
Just had a fantastic day with Heather in her beautiful workshop. My mum, daughters and I made some gorgeous silver and copper rings, we had an amazing time from the lovely warm welcome right through to leaving with our gift bag of stunning rings, we hope to be back again very soon! Thank you so much!
Had a great morning making stacking silver and copper rings! Heather is lovely and even gives you coffee and biscuits!